Book Chardham Yatra Package 2021
Validity
Limited Period Offer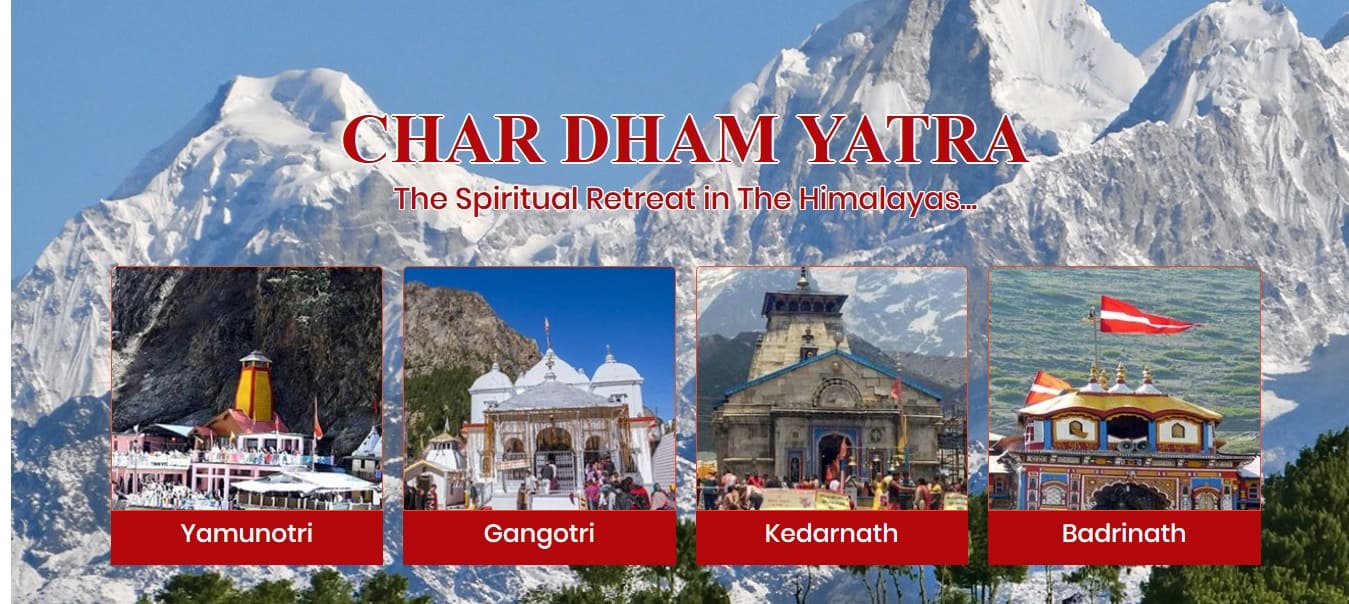 ---
Chardham is the famous religious circuit visited by lakhs of devotees every year. Located on the high himalayas of Uttarakhand, Chardham yatra complete after the visit of four Hindu pilgrimage destination - Yamunotri, Gangotri, Kedarnath and Badrinath.
Tour Itinerary (CHARDHAM YATRA 8 NIGHT 9 DAY)
This 9 days Chardham pilgrimage tour offers sacred darshan of all four shrines with comfortable accommodations and facilities in between the yatra.
Hotels Included
Standard Package (Cost 8 night 9 day Ex Haridwar ) With Breakfast & Dinner
| Destination | No.of Night | Hotel Name |
| --- | --- | --- |
| Barkot / Ranachatti | 2 | Hotel Raturi / Hotel Anil / Kalindi / similar |
| Uttarkashi | 2 | Hotel Krishna Palace / Ekant Resort / similar |
| Sitapur | 2 | Vijay palace / Hotel Kedar palace / singh Bhavani / similar |
| Badrinath | 1 | Swaminarayan / Jain Dharmashala / similar |
| Rudraprayag / Shrinagar | 1 | Samrat Resort AC or Similar |
| No. of Person | Cost per Person | Vehicle |
| --- | --- | --- |
| 12 | 19250 | Tempo traveler (Non AC Push back ) |
| 10 | 20250 | Tempo traveler (Non AC Push back ) |
| 8 | 18250 | Tavera / Bolero/ Max /similar |
| 6 | 19950 | Tavera / Bolero/ Max /similar |
| 4 | 21250 | Dzire / Indigo/ itios/ similar |
| 2 | 28900 | Dzire / Indigo/ itios/ similar |
| Extra bed | 10600 | With Breakfast & Dinner |
Deluxe package (Cost 8 night 9 day Ex Haridwar ) With Breakfast & Dinner
| Destination | No.of Night | Hotel Name |
| --- | --- | --- |
| Barkot / Ranachatti | 2 | Hotel Riya / Hotel Chauhan annexi / Hotel Garwal palace / similar |
| Uttarkashi | 2 | Hotel Him Ganga /Mansarover / Mahima resort/ similar |
| Sitapur | 2 | JPG palace / Hotel Devdham / Vishnu palace / Mahadev / similar |
| Badrinath | 1 | Narmada Bhavan / Himgiri / S. S. International / Jagirdar / similar |
| Rudraprayag / Shrinagar | 1 | Hotel Shangrilla / Ashirwad / Urvashi /similar |
| No. of Person | Cost per Person | Vehicle |
| --- | --- | --- |
| 12 | 21000 | Tempo traveler (Non AC Push back ) |
| 10 | 20250 | Tempo traveler (Non AC Push back ) |
| 8 | 24000 | Tempo traveler (Non AC Push back ) |
| 6 | 23000 | Innova /similar |
| 4 | 27000 | Innova / similar |
| 2 | 31500 | Dzire / Indigo/ itios/ similar |
| Extra bed | 10000 | With Breakfast & Dinner |
Luxury package (Cost 8 night 9 day Ex Haridwar ) With Breakfast & Dinner
| Destination | No.of Night | Hotel Name |
| --- | --- | --- |
| Barkot / Ranachatti | 2 | Hotel Shiva / Camp Nirvana / Durga Resort / similar |
| Uttarkashi | 2 | Hotel Aakash Ganga / Great Ganga / Him shikhar Suryansh / similar |
| Sitapur | 2 | Camp Nirvana /Kedar Velley Resort/ Village Retreat/ Kedar Retreat / similar |
| Badrinath | 1 | Hotel Yoga /Laxmi Heights/ Dwarikesh/ Charan Paduka / similar |
| Rudraprayag / Shrinagar | 1 | Samrat Resort / Mandakini / Tulip Resort / similar |
| No. of Person | Cost per Person | Vehicle |
| --- | --- | --- |
| 12 | 26500 | Tempo traveler (Non AC Push back ) |
| 10 | 27500 | Tempo traveler (Non AC Push back ) |
| 8 | 29000 | Tempo traveler (Non AC Push back ) |
| 6 | 28000 | Innova /similar |
| 4 | 32000 | Innova / similar |
| 2 | 35500 | Dzire / Indigo/ itios/ similar |
| Extra bed | 18000 | With Breakfast & Dinner |
Kedarnath Accommodation
- Bikaner House / Behl Ashram / Jalaram House/ Rajasthan Bhavan / similar (Basic Accommodation) . Kedarnath Stay supplement cost will be Rs. 2000/- Per person on MAP
Above Rates are valid till 15 June 2021